What are Extras?
Some libraries offer extra learning or entertainment resources through Libby.
If your library offers any of these resources, you'll find them in the Library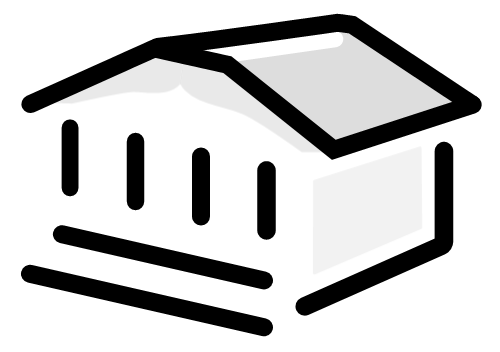 under "Extras" (you may need to scroll down to see this section). If your library offers several extra resources, tap See all extras to explore all of your options.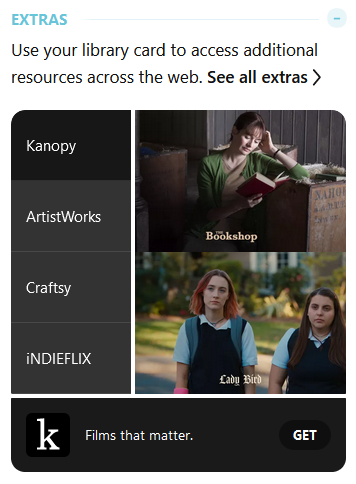 To get started with an Extra, tap a provider, then tap Get. This will take you out of Libby to get access to the service. Your library card gives you free access, but some providers may require you to create an account before you can use their service.
Note: You may see prompts for discounts and other promotions while accessing providers' services. These can be safely ignored.
How borrowing or accessing Extras works:
For all extra resources except Kanopy, you borrow access to the service for a set amount of time. Borrowed services appear on your Shelf so you can easily get back to them during your access period. Access periods vary by provider, but you can use the service as much as you'd like during your access period.
For Kanopy, you don't borrow access to the service. Instead, tapping Get takes you directly to the Kanopy app (once it's installed), where you can borrow as many titles per month as your library allows. Since you're not borrowing the service, Kanopy doesn't appear on your Shelf , and you can access your account any time directly in the Kanopy app. Get more help with Kanopy.
Extras don't count against your borrowing limit in Libby.

A note about TV access
Some video providers, like Kanopy, offer apps for smart TVs and streaming devices. If you create an account when accessing these providers through Libby, you can enjoy free access to their TV apps by signing into your account.
You may be able to cast other providers' content from your device to a TV; please consult your device help for casting instructions.

Watch a short video about accessing Extras